By Susan A. Romano, AFTAC Public Affairs
PATRICK AIR FORCE BASE, Fla. — It wasn't what he envisioned as the final step toward earning his doctorate – having to defend his dissertation virtually instead of in person before a traditional panel of judges.
The coronavirus, however, has changed the way people around the world are communicating, and this doctoral candidate was not immune to the "new norm" of social distancing.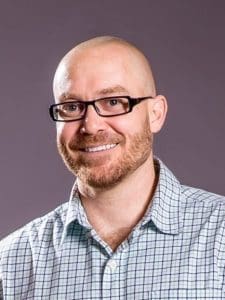 Dr. Josh Dickey has been assigned to the Air Force Technical Applications Center here since June 2007, working as an electrical engineer in the Systems Engineering Division. His primary responsibilities centered around the sustainment of AFTAC's worldwide geophysical sensor network.
In 2012, Dickey began his path to a Ph.D. at the University of Central Florida in Orlando, with coursework in electrical engineering. Things were rolling along for the young scientist.  He maintained an enviable 4.0 grade point average and published his first paper, all while juggling his full-time job at AFTAC and witnessing the birth of his first child, James.
He wasn't as fortunate the next semester, though. He received extended orders for a project he was working on in Morocco, which derailed his studies and forced him to drop all the classes for that semester. That, coupled with the birth of his second son Benjamin, put Dickey in a difficult position.
"I simply ran out of time and money," he said.
But as the saying goes, everything happens for a reason.  He learned about the Department of Defense's SMART Scholarship-for-Service Retention Program that allows select DOD personnel to pursue their education in specific STEM-related fields that are in high demand by the U.S. government.
Once accepted, retention program students receive full tuition and book allowances while remaining in their permanent civil service position, earning their full salary and benefits. Their new job duties as a SMART student are to attend classes full time, maintain a 3.0 GPA and earn their advanced degree.  Upon completion of their degree, scholars return to their organization and begin applying the new skills and expertise obtained from their advanced degree program.
"Not only do students get to pursue their passion during the education phase, they also begin a journey towards an empowering career to protect national security," said Rose Day, AFTAC's Human Resources Program Manager.  "For more than a decade, SMART scholars have been working with labs and agencies throughout DOD to support the warfighter and create an impact for our national decision makers.  The Retention Program launched the summer of 2016 was a great opportunity to allow current civilians to pursue advanced degrees that enhance mission capabilities without giving up their full-time job and sacrificing their family life. Josh was a perfect candidate."
Dickey learned of his acceptance in March 2017.  From there, he sat down with his wife, Suzanne, and laid out plans to sell their Florida home, pack up the family, and move to Dayton, Ohio.
"The Air Force Institute of Technology is located at Wright-Patterson AFB, which is where I completed my studies," Dickey said.  "It was my longest time away from the Sunshine State. Let's just say it took us some time to acclimate to the midwestern weather!"
The Tampa native enjoyed his time in the Buckeye state, but as soon the degree requirements were completed, he and Suzanne were excited to move back to Florida.
"Once we're fully settled back on the Space Coast, I will be spearheading AFTAC's new data analytics branch within the Systems Development Directorate and applying all the research I gleaned at AFIT," he said.
Dickey's dissertation was entitled, "Neural Network Models for Nuclear Treaty Monitoring: Enhancing the Seismic Signal Pipeline with Deep Temporal Convolution."
In layman's terms, his studies focused on the exploration of artificial intelligence and machine learning to process seismic signals produced during nuclear detonations.  AFTAC's primary mission is to monitor nuclear activity across the globe.
Effectively incorporating AI/ML at AFTAC is essential for our future," Dickey stated.  "I hope to spearhead these efforts upon my return to the center."
Day said Dickey was not only one of the first retention candidates for the DOD SMART program; he was also the first for AFTAC.
"Most people don't realize it, but the DOD is the largest employer of scientists and engineers in the nation," she said.  "AFTAC is an agency that employs highly-technical STEM professionals with unique skills and abilities. One of the ways to attract and retain that level of talent is through educational incentives like internships, scholarships and fellowships.  As a center, we must be able to increase the pool of advanced STEM-degree holders to execute AFTAC's global mission.  This program is so important to achieve those goals."
While Dickey did most of the heavy lifting himself to earn the prestigious "doctor" title, he was quick to recognize others who played a role in his success.
"Dr. (Bill) Junek is my inspiration," Dickey said.  "He's AFTAC's Senior Scientist and finished his Ph.D. at UCF the same semester I began.  He has encouraged me, guided me, assisted me, and even served on my research committee at AFIT.  I cannot thank him enough for his professional expertise and sincere friendship."
He also thanked AFTAC's Systems Development director, Dave Merker for his mentorship.
Merker recognized the invaluable knowledge and skill Dickey will be bringing back to his directorate, so he made the decision to stand up a new AI/ML office within AFTAC's Center of Engineering Excellence.
"Dave was crucial in both facilitating my degree and paving the way for my return to AFTAC.  I'm indebted to him."
When it came time to defend his dissertation, the team of experts connected with Dickey over an online teleconferencing application. The panel consisted of his research advisor, a representative from the dean's office, and three members of the research committee.
"I enjoy public speaking, and I really feed off the audience's reaction to whatever I might be presenting at the time," Dickey said, "so talking to a camera in an empty room for more than an hour was a different experience.  Fortunately, the significance of the moment was enough to boost my adrenaline and I was able to power through my defense.  Once the question-and-answer portion began, I felt much more comfortable.  And I passed!"
When asked what the most rewarding part of his studies was, he reflected for a moment to gather his thoughts.
"The opportunity to learn a new skill set and completely revamp my career has been priceless," Dickey said.  "Back in 2011, I saw this great potential for incorporating more machine learning into AFTAC's vital mission.  And now, getting the opportunity to study AI/ML full-time for three years has been a dream come true."
He added, "AFIT is a special place, particularly suited to pursue operational and classified research for the Department of Defense.  The faculty is top-notch and the close proximity to the Air Force Research Lab is invaluable.  I highly encourage anyone who's interested in advanced education to look into scholarships offered by the DOD STEM program.  Convince your leadership that you are worth the investment, and then work your tail off!  The payoff is well worth the effort."
This article originally appeared
here
.