By Staff Sgt. Jessica Montaño, 55th Wing Public Affairs / Published June 29, 2020
OFFUTT AIR FORCE BASE, Neb. — The Glass Titan Mission team was on the crew bus headed to their jet to conduct a mission, when their mission commander flagged them down and said, "change of plans; you have two hours to prepare."
It's flexibility like that as well as rapid global mobility, unwavering endurance, precise mission execution and expedited data analysis that helped this team earn the Air Force's Nuclear Deterrence Operations Professional Team of the Year.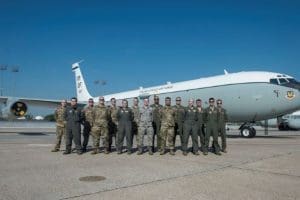 The 45th Reconnaissance Squadron and Air Force Technical Applications Center's Detachment 1's Glass Titan Mission team is a crew that operates the WC-135W Constant Phoenix, which is an aircraft that collects particulate and gaseous effluents and debris from accessible regions of the atmosphere.
"The Constant Phoenix mission is a highly specialized resource in the Air Force's and DoD's intelligence, surveillance and reconnaissance enterprise that is capable of providing atmospheric radiological data analysis," said Lt. Col. Sean Orme, 45th RS. "There are only two manned aircraft in the U.S. military's inventory capable of conducting this type of atmospheric research."
"The detachment fields the mission compartment, sensor maintenance technicians, and scientific field analysis crew, who all have a seemingly-impossible task of working with an aging airframe, equipment well-past its advertised shelf-life, limited resources and sparing," said Maj. Justin Guy, AFTAC Det. 1.
Recently, the crew executed a no-notice deployment that included a variety of surveillance missions from three different locations and countries across the U.S. Indo-Pacific Command.
"The team flawlessly executed operations with a partner nation we have not operated out of in over 15 years, said Lt. Col. Andrew Maus, 45th RS commander. "In the midst of that deployment, they picked-up and redeployed within three hours to respond to an international nuclear incident, maxed out their weekly flying hours, and accomplished the first positive collection of its kind in over 20 years for the Air Force."
"Recognition for the excellent work they put forward in challenging conditions was long-overdue, and when put to the test short-notice (the team) proved ready," Guy said. In the last decade, the Air Force contacted the Royal Australian Air Force to expand a valued ally partnership, and update and expand the scientific knowledge of an area that has not been researched.
"We conducted a site survey with our RAAF partners proving that our mission could be successfully conducted from their facilities, and subsequently were able to operate from their locations for several missions," said Capt. Kyle Redfern, 45th RS. "This allowed us to collect samples in locations that had previously been beyond the aircraft's range.
The Constant Phoenix mission strives to have the most accurate data on effluent debris in the atmosphere at any given time.
"Accuracy in data is what enables leadership at the Air Force level and above to make the best-informed decisions on behalf of the nation," said Orme. "The Pacific accounts for 63.78 million miles of its surface area, which leaves a large area unanalyzed, so, to close the gap we worked with the RAAF."
All of the missions at the 55th Wing are vital to national security by giving the President, National Security Council, and combatant commanders the ability to make informed and time critical decisions based on the most current and accurate information available.
Using our diverse ISR capabilities, we are able to provide data that allows decision makers to see through enemy deception and better anticipate likely adversary tactics, weapons and intent prior to engaging in any kinetic form of warfare," said Orme. "This increases the likelihood of a US victory."
The results of the no-notice tasking were immediately briefed to the President during his daily presidential briefing.
"I've never before experienced a no-notice tasking that carried this amount of weight with it, but the 55th Wing made sure we had the resources and skills necessary," said Redfern. "So, we kind of just looked at each other, took a deep breath, and went after it."
Without the Constant Phoenix mission, the Air Force would lose a large portion of their ability to hold adversaries accountable to the obligations of the Limited Nuclear Test Ban Treaty of 1963.
"Without this mission, the DoD and our nation as a whole, would find themselves less informed, less equipped and therefore less prepared to holistically and confidently confront future challenges in the nuclear arena," said Orme.
This article originally appeared here.