Republished with permission from University of Massachusetts, Lowell – This article was originally published here.
For economics major Marvens Francois, it's all about teamwork.
He joined club rugby "to be part of a team, that sense of community and working together."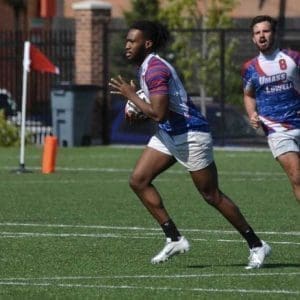 He joined the Economics Club and its Federal Reserve Challenge team, doing in-depth research so that the limited number of student presenters competing in person could make strong arguments.
And he chose to major in economics in part because of the small, discussion-based classes, the sense of community among the students and the mentoring relationships with professors.
"The small department and the intimacy that I have with the economics professors now, with more one-on-one time, speaking to them outside of class and getting their help in really understanding the material, is the biggest reason I decided to major in economics," he says.
Francois came to UMass Lowell as an electrical engineering major. His high school, Boston Community Leadership Academy, didn't offer an economics class, but he interned at Bank of America the summer after graduation. Once at UMass Lowell, inspired by that experience and movies such as "Moneyball," he signed up for an elective class in microeconomics. He quickly decided to switch majors.
"I've always had this love for economic theory and the stock market and things like that, so I said, 'I'll give it a try' – and I've never looked back," he says. "It's definitely one of the best decisions I made in my life."
His proficiency at math made the switch easy, he says. Economics majors study calculus and statistics, econometrics and game theory. But Francois likes that economics challenges him to think in different ways, too, through classes such as Health Economics, Labor Economics and Industrial Organization.
"Economics gives you that variety – it offers you the geeky number side and the analytical side. With an economics degree and understanding, you can go into the business world as well. Those opportunities are extremely broad," he says.
He also likes that the department's students and faculty are diverse and international. A recent Harvard study found that UML's Economics Department is more racially and ethnically diverse than 99 percent of departments across the country.
"I think it's awesome, just the diversity of thought," he says.
As a rising senior, he's joined a new team: the U.S. Air Force Civilian Service. At a campus career fair for economics students, he applied for a paid summer internship in financial management service – and got it. While his Air Force Premier College Internship is virtual because of the COVID-19 pandemic, he loves it so far.
He plans to continue the internship part-time during his senior year, which will put him on track to get a job through the PALACE Acquisition (PAQ) initiative, a two- to four-year training program in the Air Force Civilian Service that prepares new graduates for permanent positions.
"I feel working with the Air Force gives you that opportunity to be in a tight-knit community where it's not just about money and things. It's a family where you're working for your country and you make a difference for your country," he says.
"It's a team and you're working for the United States of America, and that really appeals to me, the patriotic side of things."
Learn more about the PCIP program here.